Every minute of every day a child in Western New York is fighting a battle you could not envision. Please take time to get to know local heroes! Read about their diagnoses and detailed warrior stories in their own words and the words of their parents.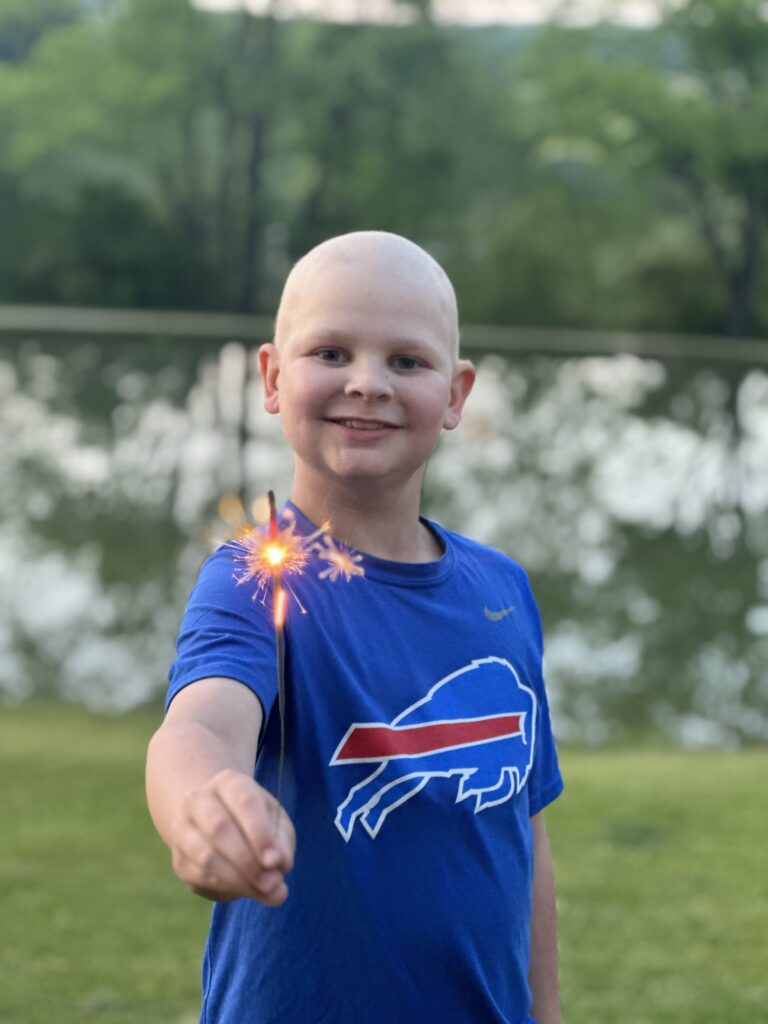 Jack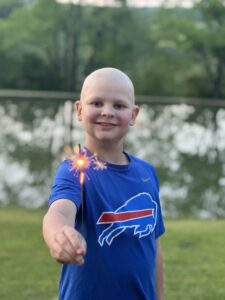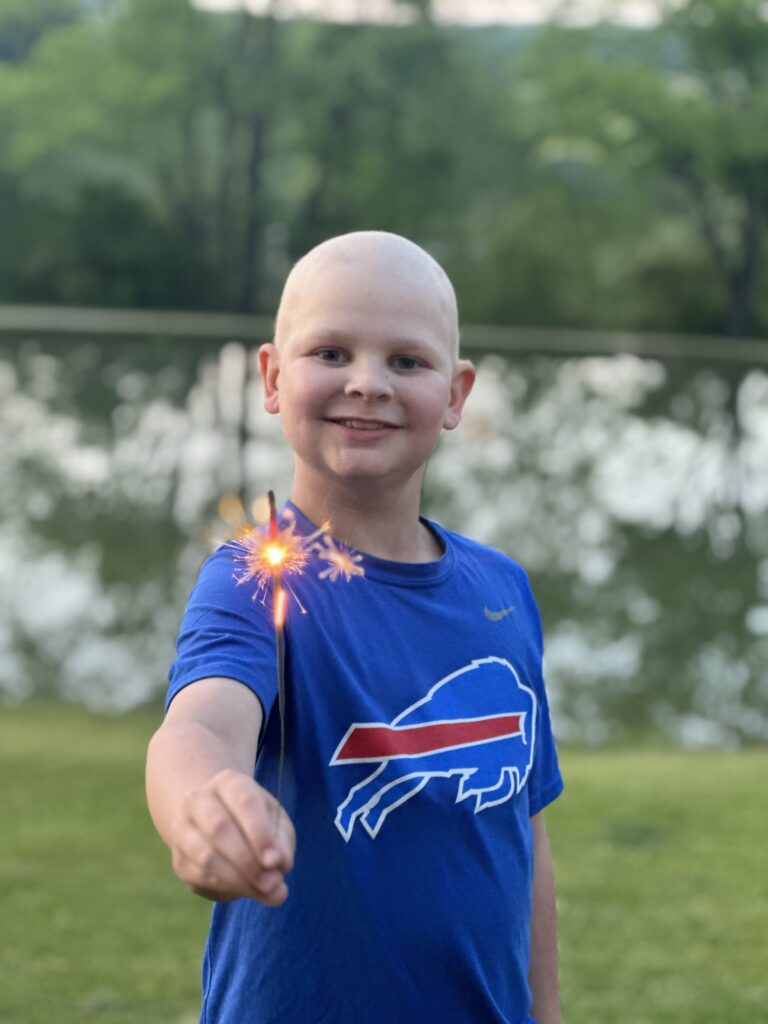 Liam's story started in December of 2019. He ended up in the ER with swollen lymph nodes in his neck, and we were desperate for answers. A week later, Liam was diagnosed with T-Cell Lymphoblastic lymphoma at the age of 6. After a month of intensive inpatient chemotherapy and multiple biopsy surgeries, he was considered cancer free and sent home. Liam fought for over 2 years, enduring outpatient chemo therapies along with a few in patient visits as well. Liam finally rang the Roswell Victory bell on May 2nd, 2022!!! Liam was finally cancer free and able to get back to just being a kid again! Unfortunately, that was cut short 10 months later. A week before his 10th birthday, we got the unthinkable news… Liam's cancer was back. This time, it was in his bone marrow, and it's a leukemia. Similar to last time, but now it's T-cell lymphoblastic leukemia, and he needs a bone marrow transplant! Here we go again. They immediately started the search for donors. Myself, Matt, and Luke were all tested, and we all came up only at a 50% match… they wanted a 100% match! Next, they started the search on the world wide database for Marrow donors, and after a few weeks, we had 12 matches! The doctors carefully selected their top 3, and after some back and forth, we landed on a 24 year old female from the United States, and she was going to save our sons life!
Liam underwent more intensive chemo, was admitted to the hospital for another 30 days, and after that, they held him in a holding pattern with maintenance chemo until the donor was lined up and ready. Finally after months of waiting Liam's donor was on the schedule and he was readmitted back to the hospital and prepped with MORE intensive chemo and 3 days of full body radiation to completely wash his system of everything!
On June 9th, Liam received his new marrow, and everything went super smooth! We held our breath as we waited 2 weeks for the new marrow to make its new home and start rebuilding. Liam encountered a few obstacles along the way, but amazingly, he overcame everything thrown his way. After a month, he finally headed home!!! Shortly after being home, he landed back in the hospital with unexplained fevers and terrible stomach pains. After a week and about a million tests,  it was determined Liam was having some Graft vs. Host disease, and we needed to get a handle on it asap. The doctors did an amazing job managing and controlling Liam's GVHD. After a few weeks of no food with intense antibiotics and steroids, he was finally on the upswing. He was able to come home, and we intended to keep it that way!
Liam's been enjoying life playing with his brother and his dog Lucy. He now has a new routine at home. He misses his friends and extended family the most and can't wait to get back to being a normal kid! Today, he is day 75 post transplant. The next celebration will be day 100 when he is considered in the clear, and he can start weaning off some meds and possibly get his central line out!
Liam is an inspiration to everyone around him. Throughout his entire journey, he has been able to give back to kids in need at OCH through his pajama drive. Liam has successfully donated thousands of pairs of pajamas to kiddos in need, not only to floor 12 but hospital wide! Liam also did a fundraiser to purchase month long parking passes for every single family on floor 12, hoping to relieve the burden of paying for parking while their family member is fighting cancer! Liam is looking forward to being a kid again and getting back into school and sports!  He is forever grateful to his donor, and he looks forward to meeting her sometime in the future! 💪🏻💙🥰🎗️
Told By Liams Mom -Liz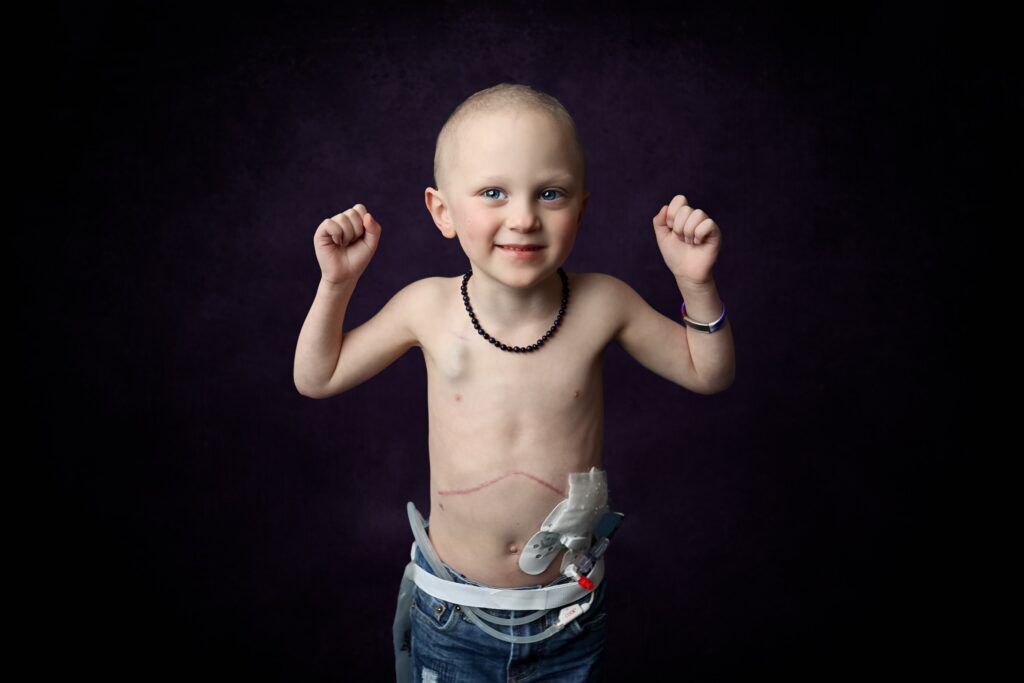 Keeley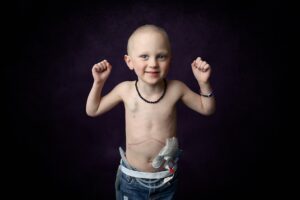 One month prior to his fourth birthday, Jack was diagnosed with Bilateral Multifocal Wilms' Tumor. Typically, treatment for Bilateral Wilms' is six weeks of chemo followed by partial nephrectomy to remove the tumors. However, after Jack's six weeks of chemo, there was no change in the tumors. Our team, led by Memorial Sloan Kettering Cancer Center, advised us to continue with a different combination of chemo to try one more time at shrinking the tumors prior to surgery. After the second round of chemo, imaging devastatingly showed no change.
On January 19th 2022, Jack underwent a 12-hour surgery to remove one softball-sized tumor on his left kidney and seven smaller tumors on his right kidney. He was left with roughly 30-50% of healthy tissue from each kidney. We waited a solid seven days for the pathology results – but unfortunately, the report was not in our favor, Jack had Diffuse Anaplasia in each kidney. This drastically changed our treatment plan after surgery. We settled on seven days of abdominal radiation as well as 28 weeks of chemotherapy. Jack experienced many setbacks and complications post-surgery. Often, we felt shattered and like we would never see the light at the end of the tunnel. Jack finished his last round of chemo August 19th, 2022. His final scans to determine that he had no evidence of disease were in October 2022.
We live in 3 month increments, hoping and praying that even with his high chance of recurrence, our energetic 5 year old will be able to live a long and healthy life, cancer free.
The amount of support, love, and prayers we have so graciously received from our family, friends, medical team, and complete strangers is immeasurable. We have been welcomed onto a team of fellow families who are fighting this fight through blood, sweat, and tears just like us. It is the team that no one wants to be a part of, but we are so thankful to have them.
Although there is no longer a single cancer cell in Jack's body, cancer will forever be a part of our lives. We have been changed because of this awful thing that is truly not so rare. Fellow patients and their families have become family to us. We are so proud to be lifelong ambassadors of childhood cancer awareness.  -Jack's moms, Jamie & Cortlyn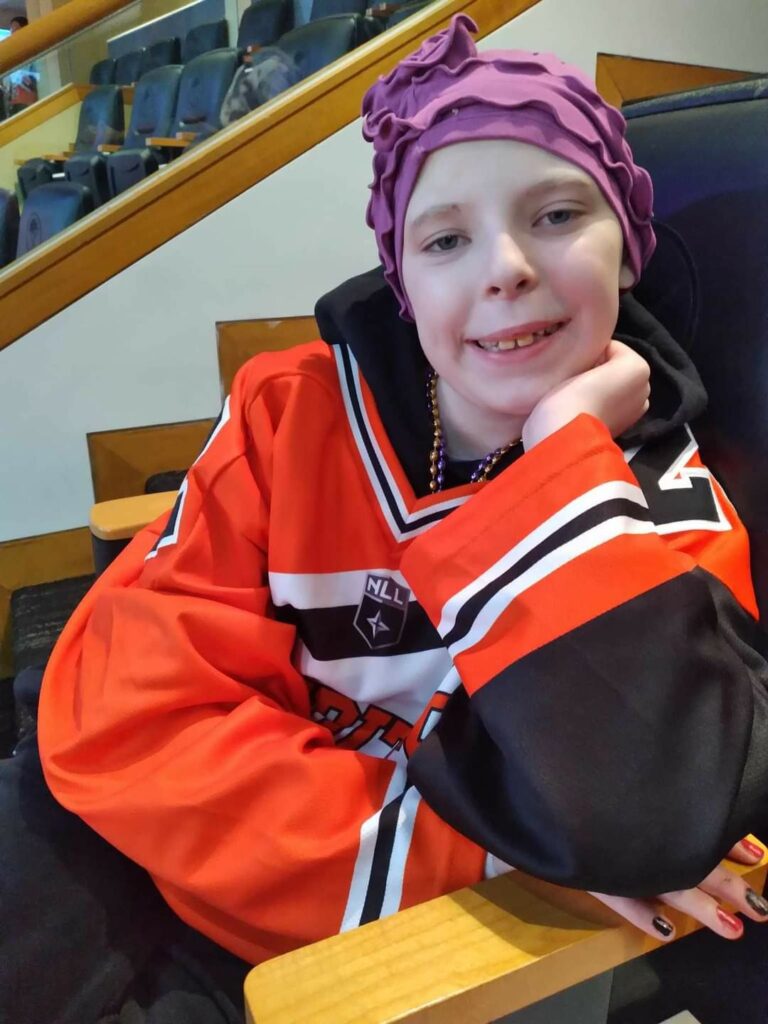 Mya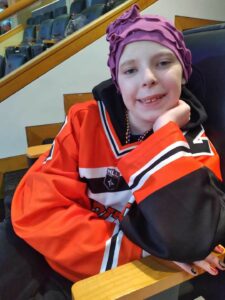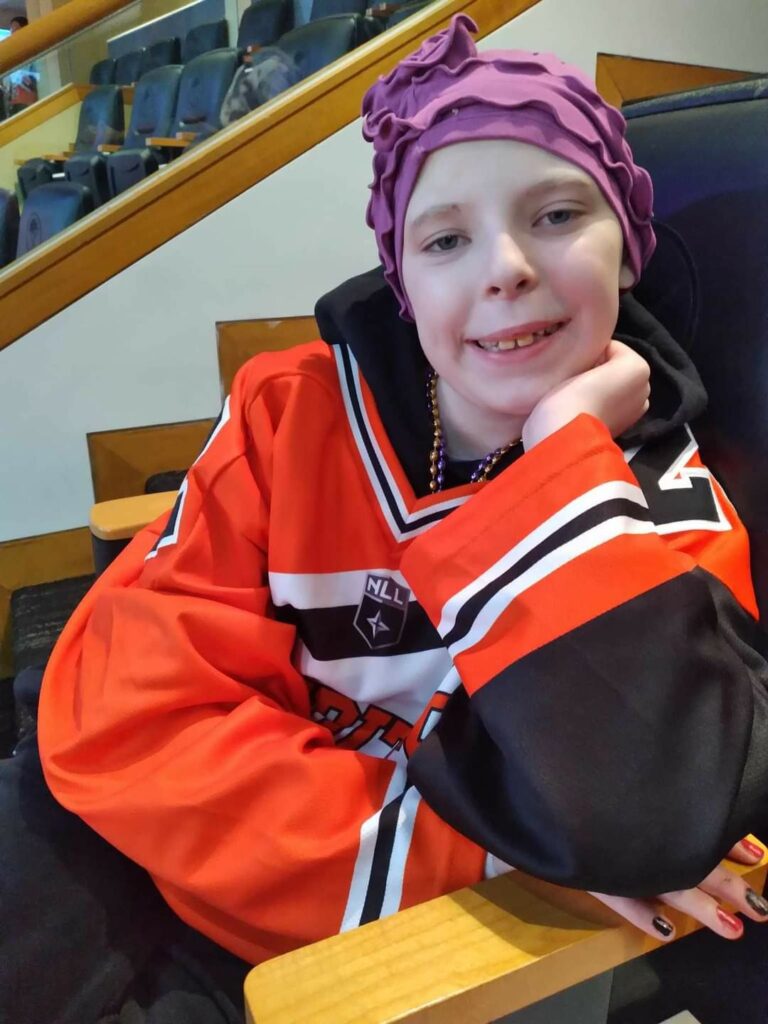 Hannah is a 12 year old girl attending North Tonawanda Middle  School. She is in 7th grade.
On June 1, 2022, Hannah woke up complaining of elbow pain. When we contacted her pediatrician later in the week, he felt it was due to overuse since Hannah is so active in sports. We were told to keep an eye on it and to contact him if things change.
Over the weekend, she was crying of pain, and on Sunday morning, her elbow was three times its normal size. We took her to the pediatric urgent care, and after an x-ray, they determined it was broken. They put her arm in a sling and referred us to an orthopedic office. I called on Monday, and they couldn't get her in until Thursday. They had to do another x-ray and stated it was not broken but maybe deeply bruised. They said she could use the sling as needed, but the gym and sports were done through the end of June.
Thursday night, she had a fever of 102. I called the doctors office, and they had her come in on Friday. She was seen but by then had no fever. They said it could just be a virus,  we were sent home.
That weekend, she started to refuse to eat anything. By Monday, she refused to even take a bite of her favorite food, breaded pork chops. We took her to DeGraff as we were concerned she was developing an eating disorder. There had been some influence from school. Some blood tests were done, and we were told to contact our pediatrician the next day. I was also told that I should go to Oishei in the future as they can do additional tests. The next day, I spoke with the pediatrician, and he wanted to have additional blood tests done later in the week. We had those done at Kaleida Blood Lab on Sheridan, and the woman there was fantastic with Hannah. We saw her pediatrician the next day, and he said it looked as though she had mono at some point. He wanted repeat labs completed the following week.
On Thursday, June 23, Hannah had her last day of school. It was a half day, and I took her to complete the blood work afterward. Then she went to grandma's house for the night.
On Friday, June 24, Dr. Joe from Wheatfield Pediatrics called us and said we needed to bring Hannah in as soon as possible. We arrived at the doctors office and he brought us into his office. He said there are concerns with her blood work, and we need to bring her to Oishei Emergency Room, where they will run more tests. We were told to pack things to do for a long afternoon.
We arrived in Oishei at about 4 pm. By 8:30 pm, we heard the words no parent ever wants to hear.
On June 24, 2022, Hannah was diagnosed with ALL B Cell. Acute lymphoblastic leukemia. She had a bone marrow biopsy and a spinal tap completed along with her mediport put in on Monday, June 27th. It was the longest 3 hours of our lives. The biopsy showed that the cancer had spread to 70% of her cells in her bone marrow and 15% in her blood work. It was not found in her spinal fluid. Chemo started a day after. Within a week, it was no longer found in her blood work.
Treatment plans changed 2 more times in July as tests came back, showing she had a higher chance of relapse. She was put on a daily chemo pill by the end of July that she takes all through treatment. Hannah has had many obstacles, including never having to take any pills before. She was discharged from her initial stay on Aug 1st and then had to be at Roswell for 8 hours the following day. This did not stop her from attending cheer practice that night.  Last season, she was able to cheer in 3 games on the sidelines. She also attended the majority of her practices.
Hannah went into full remission at the end of September but still has to complete treatment through October 2024.
Hannah has had 4 planned hospital stays for continued treatment that were completed right before Christmas. Since Aug 2022, Hannah has also had 7 unplanned hospital stays due to fevers and infections. She has spent in total about 4 months in the hospital in the past year.
Currently, Hannah is in the maintenance phase, which is the last phase of treatment. She continues to need blood transfusions from chemo treatments. As of now, everything is completed at Roswell Clinic.
Cheer has started again, and she participates in the majority of practice. She is looking forward to being able to participate in cheer competitions this season.
Hannah and her brother have kept busy this summer hosting lemonade stands and donating to organizations that have helped us through the process. Many organizations are for pediatric cancer patients but also include the rest of the immediate family. We've had the opportunity to work with P.U.N.T., Sweet Buffalo, Hope Rises (along with the Shine Gold campaign), Olivia's Bears, Camp Good Days and so many more.
She is a true warrior and fighter in every sense. She is Hannah Strong. She has a kind heart and always tries to help the friends she's made along the way. She wants to hold a blood drive every 6 months so that she can help out. There is always a shortage.
She helped make fake flower vases to take to the kids on the 12th floor at Oishei. They can't have real flowers due to the mold. But she wanted to help brighten their rooms up. She is not the only one trying to give back and bring awareness. We have met so many other kids and families on this journey doing the same thing. There are so many strong ,tough ,determined kids trying to help other kids and to get more funding for research needed for pediatric cancer.  We will continue this fight long after treatment is over. 
-Hannah's mom, Patti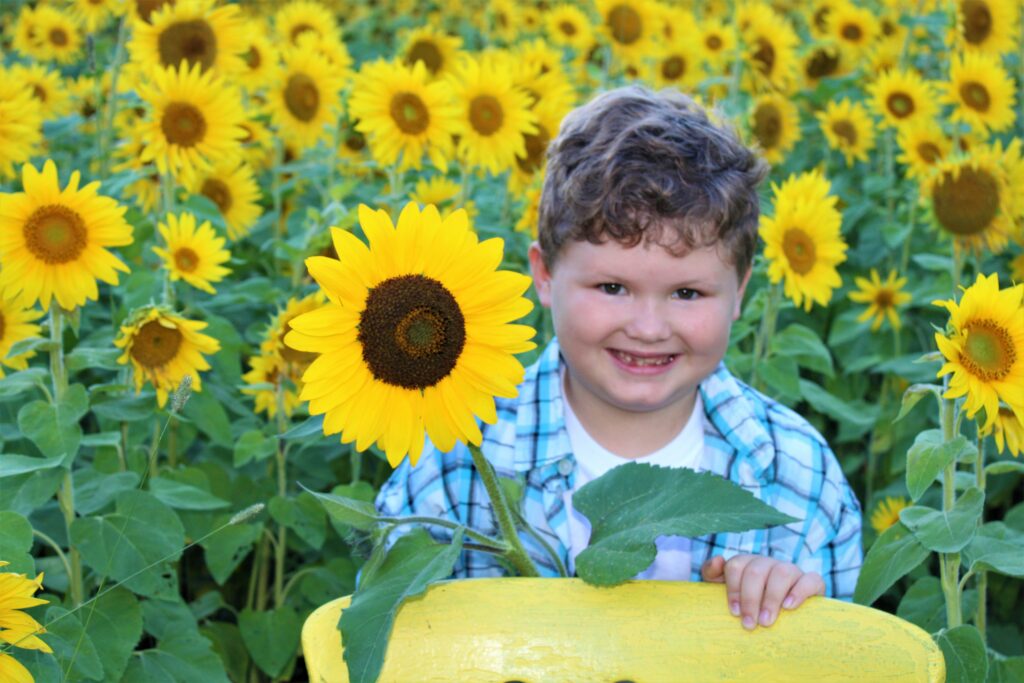 Scarlett Rae Kiera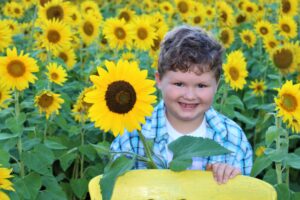 Heath Pittman
Olean NY
8 years old.
Dx: February 2020 Stage 3 Embryonal Rhabdomyosarcoma age 4
Currently NED
His story:
What started out as an injury from a fall on some stairs and a lump that appeared on his lower leg has turned into something no child should have to endure. Early November 2019, Heath bumped his shin on some stairs, and a lump appeared on his shin. He was seen by his amazing pediatrician, and it appeared to be a hematoma. In December, the lump was growing, so they did an x-ray to rule out a fracture. The x-ray was negative, so an ultrasound was done. The ultrasound revealed blood flow through the lump. An mri was scheduled by our pediatrician at Oishei Children's Hospital, which took 2 months to get into. The mri revealed a mass.  On 2/27/2020, 4-year-old Heath had a biopsy, and in less than 24 hours, our family received a phone call confirming our worst fears. Heath was diagnosed with stage 3 Embryonal Rhabdomyosarcoma, a rare and aggressive soft tissue cancer.
   Immediately following diagnosis, Heath's medical plan and treatment were put into action at Roswell Park Comprehensive Cancer Center. More scans, more tests, and surgery. Our life was a wind whirl. As we tried to process, focus, and keep ourselves together for Heath, who himself was asking us "am I going to die?" (Even at an early age, Heath knew cancer sucks he had recently lost a great grandmother to cancer.)
Heath has endured 42 weeks of aggressive chemotherapy, 30 sessions of radiation, 4 surgeries, 6 months of daily oral maintenance chemo, multiple scans and tests, hospital stays, ER visits, too many pokes too count, neuropathy, sickness from the side effects, foot drop and stress fractures. After 531 days of fighting, we finally heard the words "no evidence of disease". Heath rang the victory bell for completing treatment on July 6, 2021, and took his last chemo pill on July 19th, 2021.
   His 1st post treatment scans and tests were July 22, 2021, and due to white spots found he had to have a pet scan to rule out the cancer returning. August 3rd, 2021, he had the scan, and he was confirmed NED (no evidence of disease}. He returned to school for the 2021-2022 school year as a 1st grader and enjoyed it so much. The staff at Portville Central School were amazing at helping him grasp what he missed, helping to develop his handwriting, (due to the neuropathy in the hands he was unable to develop these skills at home the previous year). It, for us, was a hugely successful year. He continued to be tested every 3 months until Aug 9th 2022 which we celebrated 1 year NED. He then progressed to scans and tests every 4 months. July 2023, he celebrated year 2. Heath is currently undergoing scans at 6-month intervals with x-rays and labs. Heath struggles with physical challenges of foot drop and frequent falls from the tumor removal surgery, toe walking from neuropathy, and he struggles with large gross motor skills, scars both mentally and physically. He's fractured his tibia twice; he is so full of energy and spirit it's hard to slow him down. Heaths journey is not over. This is a lifelong journey. Anxiety, especially at scan time, is real. You worry about reoccurrence or secondary cancers from the treatment itself. Survivorship is a whole new journey.
    While we are so grateful for his milestones, we struggle and hurt for those fighting and for those who have been taken. Our family can only hope that science will continue to progress. We know now more than ever how important research and advancements are in regard to childhood cancer. Our hope, through telling his story, is that the world will continue to fund the search for a cure to end childhood cancer.
Watching your child or grandchild suffer the horrors of treatment in order to have a chance at life is something no sibling, no parent, or grandparent should ever have to experience. No child should have to go through this.  We dream of the day when every child can be promised a cure and live a healthy life, and be able to fulfill their hopes and dreams.
Told By Heaths Mom - Jillion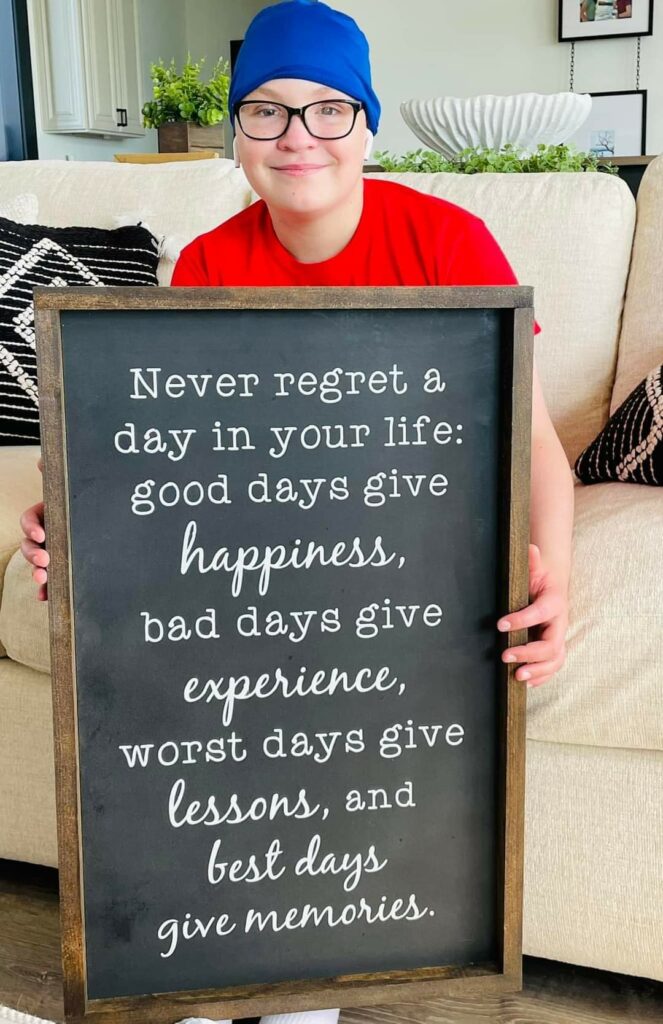 Jack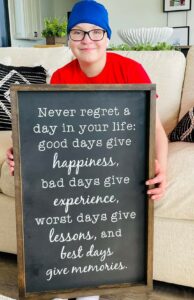 Colt 45
Portville, NY
On May 2nd 2021, our lives were totally and irrevocably changed when our then 10-year old son, Colt, was diagnosed with leukemia, AML. He was treated at Oishei Children's Hospital in Buffalo, N.Y. He went through three cycles of aggressive treatment and then had a bone marrow transplant November 1st. His little brother Jack was his perfect donor match! After leaving the hospital in December he continued to receive outpatient treatment at Roswell Park. He had the best care by all at OCH and Roswell. Colt spent from December until February 9th at the Ronald McDonald House of Western NY. Everyone there made us feel so welcomed and it truly became our home away from home. Colt was able to ring the bell at Roswell to celebrate remission and 100 days post-transplant. He continued going to Roswell weekly and then once every other week then we got to once a month. He went back to school and started back up with his swim team in November of 2022. He started competing in January 2023, swimming faster times than before. It was truly amazing to see him back in the water doing what he loves. All was starting to get back to a new normal. Fast forward to February 2023. A year after he rang the bell he had an end of treatment bone marrow biopsy. There were no concerns, no worries, all of his labs were great, engraftment from transplant was perfect, this was supposed to be routine. Later that week we found out he had relapsed. Our world once again was rocked. We all were truly in shock. He immediately started treatment inpatient. Colt has been such a different child this time around. A true warrior with the mindset of "Let's go, give it to me, get the job done and get me out of here". He truly continues to amaze us each and every day. He always has a smile on his face and is always willing to be there for his warrior friends. He cares so deeply. He was able to leave the hospital for a month and was outpatient at Roswell doing more chemo because the relapse chemo didn't get the job done. Well, that second round of chemo also didn't fully get the job done, so we had to go back inpatient to get one more aggressive round. Colt is currently continuing to fight like hell, stay strong, positive and always fight ready. Chemo started back up on June 16th and his second transplant took place June 21st. We had an amazing donor, and all we know about her is that she is a 19-year old American, and that she is undeniably caring and kind! He left the hospital in July and is recovering from transplant in the Buffalo area and continues to go to Roswell for appointments. He received great news that there is currently no evidence of any active disease and that the engraftment results are 100% the donor cells in all three areas they check. We are looking forward to post transplant day 100. Another bone marrow biopsy will be done at the end of this month to be sure there is still no evidence of disease and then hopefully be able to return home this Fall. Please continue to pray for our amazing warrior. We hope that by reading and following his story, you can keep updated on Colt's progress and people can offer support. We also hope to raise awareness that pediatric cancer is real, and affects families every day. 
What Colt has always wanted to do was to help others the way so many people and organizations have helped him. With the help of Boss Because and Andrea Tarshus he was able to start the Colt 45 Strong Inc. Foundation. This foundation is one way to raise awareness to pediatric cancer, as well as to help raise funds for other children and their families who find themselves in similar situations. He has enjoyed putting together transplant bags and has started his own podcast to help other warriors on their journey. Colt 45 is determined, fierce, and destined to make a difference. He has always been kind and compassionate, but tough times make for tough people, and Colt has become infinitely more resilient as a result. This foundation embodies what we love about Colt45: kind and caring, while also strong and determined.
Thank you all for your continued love, prayers and support.
Told By Colts Dad - Mike